So I'm still looking for that laptop to replace the one my wife dropped. After trying the Dell Inspiron 5155 first, my next target was the Lenovo Legion 5, which I found a good deal on at Amazon.
The reason I chose this one was simple – the price was good and I saw the rave reviews last year's model received. I also got to spend some time with the Legion 5 Pro, which was just plain awesome.
But knowing that this laptop is nearly half the price of the Legion 5 Pro, I did lower my expectations a bit. How good could it be for $1000 right? Well to my surprise, it's actually pretty good! Just lower specs is all.
And after spending a solid 10 days with it, I can say my search is over. This one is a keeper.
See below for my detailed report from my testing.
Specs as reviewed- 2021 Lenovo Legion 5
Lenovo Legion 5 15ACH6 2021 Screen 15.6 inch, 1920×1080 px, IPS equivalent, 165 Hz, matte, 3ms Processor AMD Ryzen 7 5800H, 8C/16T, 3.2Ghz with 4.4Ghz boost, 16MB cache Video NVIDIA GeForce RTX 3050 Ti with 4GB GDDR6 VRAM 60-85W Advanced Optimus with AMD Graphics, Freesync Memory 16 GB DDR4 3200Mhz (2x8GB DIMMS) Storage 512 GB M.2 NVMe with spare PCIe 3.0 NVMe Connectivity Realtek RTL8852ae Wifi 6, Bluetooth 5.2 Ports 4x USB-A 3.2 gen2, 1x USB-C 3.2 DP 1.4, 1x USB-C with DP 1.4 and PD support, 1x HDMI 2.1, ethernet, mic/earphone Battery 60Whr, 230 W charger Size 363 mm or 14.3" (w) x 260 mm or 10.22" (d) x 23.57-26.1 mm or .93-1.03" (h) Weight 2.4 kg (5.3 lbs) Extras 4-zone RGB keyboard, HD webcam with kill switch, stereo speakers
In the meantime, I've also reviewed the Legion 5 17-inch RTX model over here, as well as the mid-tier RTX 3060 version of the Legion 5 15-inch over here.
Update: Our review of the updated 2022 Legion 5 (gen 7) is available here, while our review of the 2022 Legion 5 Pro is also available here.
Update2: And here's our coverage of what looks like the 2023 successor of the Legion 5 series, the new Lenovo LOQ 15/16 lineup available in either AMD or Intel variants.
Design and construction
If you've seen the Legion 5 from last year, this one isn't a whole lot different in terms of aesthetics. And that's probably a good thing since it was so well received.
The laptop is entirely made of plastic, with the primary color being a dark blue which Lenovo calls Phantom Blue. The secondary color for the vents and bottom is black. It's a good-looking combo.
I don't know if it's the materials or what, but I liked the handling of this laptop better than the Legion 5 Pro. It's a little lighter yes, but it's also grippier on the bottom. There's a particular grip where my palm was on the vents on the bottom and my fingers would wrap around the rear IO and I could use my other hand to open the lid at the same time. Very efficient.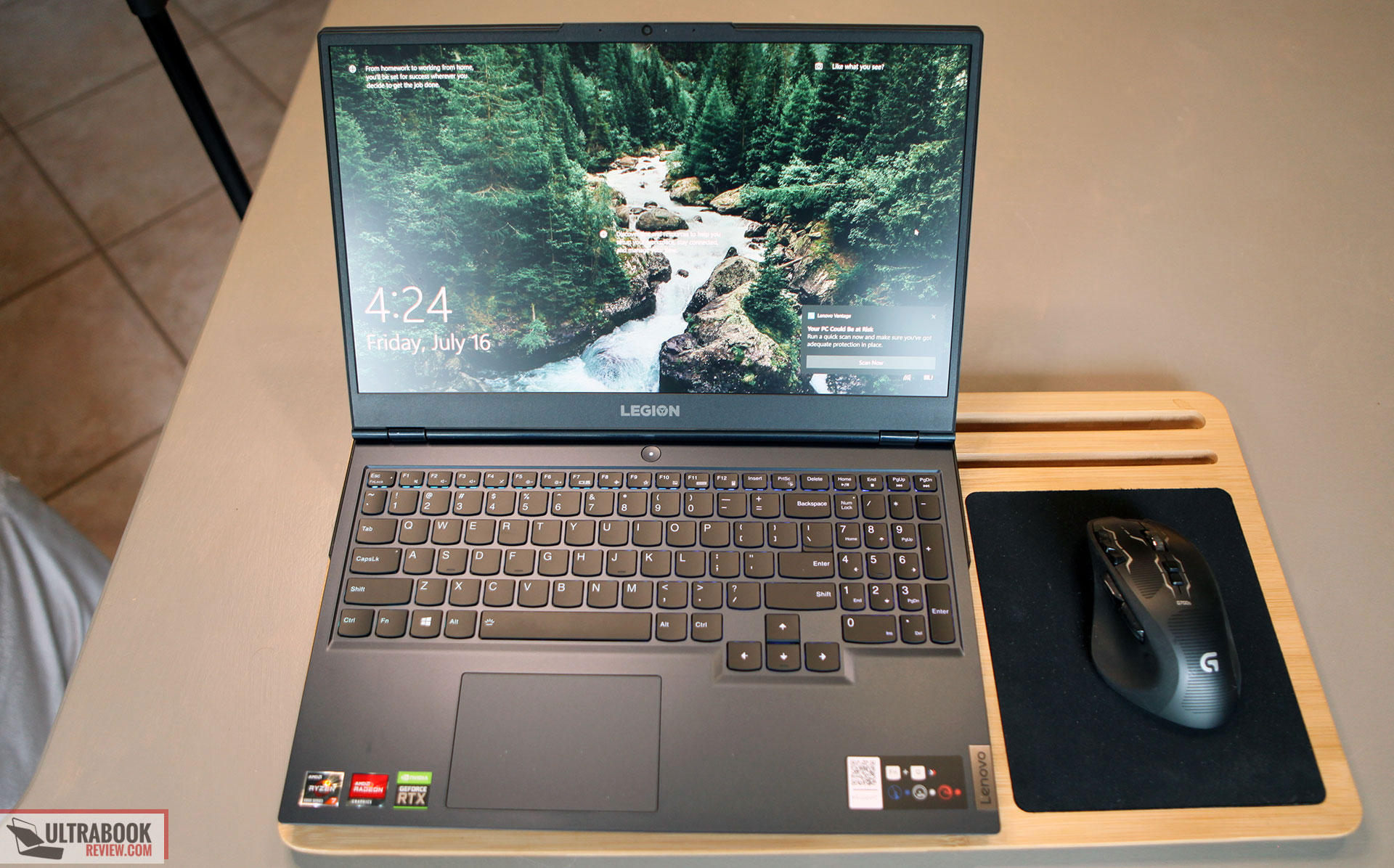 The build quality is very solid. No creaks in the casing were detected in my usage. The flex in the chassis was also very good, considering the amount of plastic used. I'm pretty impressed with how durable and high quality they made this laptop feel.
The lid is a smooth and reasonably thick piece of plastic. There's a small Lenovo logo in the lower corner and a Legion logo in the opposite corner. There's a prismatic coloring of the Legion logo that shifts color depending on the angle of the light. Subtle but pretty cool looking.
Lifting the lid is a one-finger action – just what I like. The lip on the lid is excellent to get a good grip too. The hinge is great, being very sturdy and holding just the right amount of strength for adjustments. This lid also extends the screen back 180°.
There's only one thing I worry about the hinge and that's the paint job. It's actually a similar paint that you would see on a car, with a glossy clear coat. It's not that ugly, but it's super shiny compared to the rest of the laptop. And I worry about what it'll look like a few years from now. I already have a small scratch just from flipping it over on the table once for pictures. Update: As someone in the comments pointed out, it's merely plastic film and can be peeled off. The hinge looks fine without it. The film is a major pain in the butt to remove though.
So under the hood, there's a lot going on when it comes to logos and stickers. Under the screen is a Legion logo and on the corner of the palmrest is another aluminum Lenovo logo. There's also a bunch of stickers for the CPU, GPU, and hotkeys, but these can easily be peeled off.
The bezels are reasonably small on this unit. The bottom bezel is thicker, which is normal for most 15" laptops. Centered in the top bezel and the lip is an HD webcam.
Nothing too crazy going on with the palmrest. There's very little flex in the chassis, including on the keyboard deck. It's a full keyboard and decent-sized trackpad, which we'll discuss more soon. Above the keyboard is a power button.
Unfortunately, it's an always-on light on the power button, but at least this light has a purpose. The color indicates what power profile you are using: red for performance, blue for quiet mode, and white for balanced.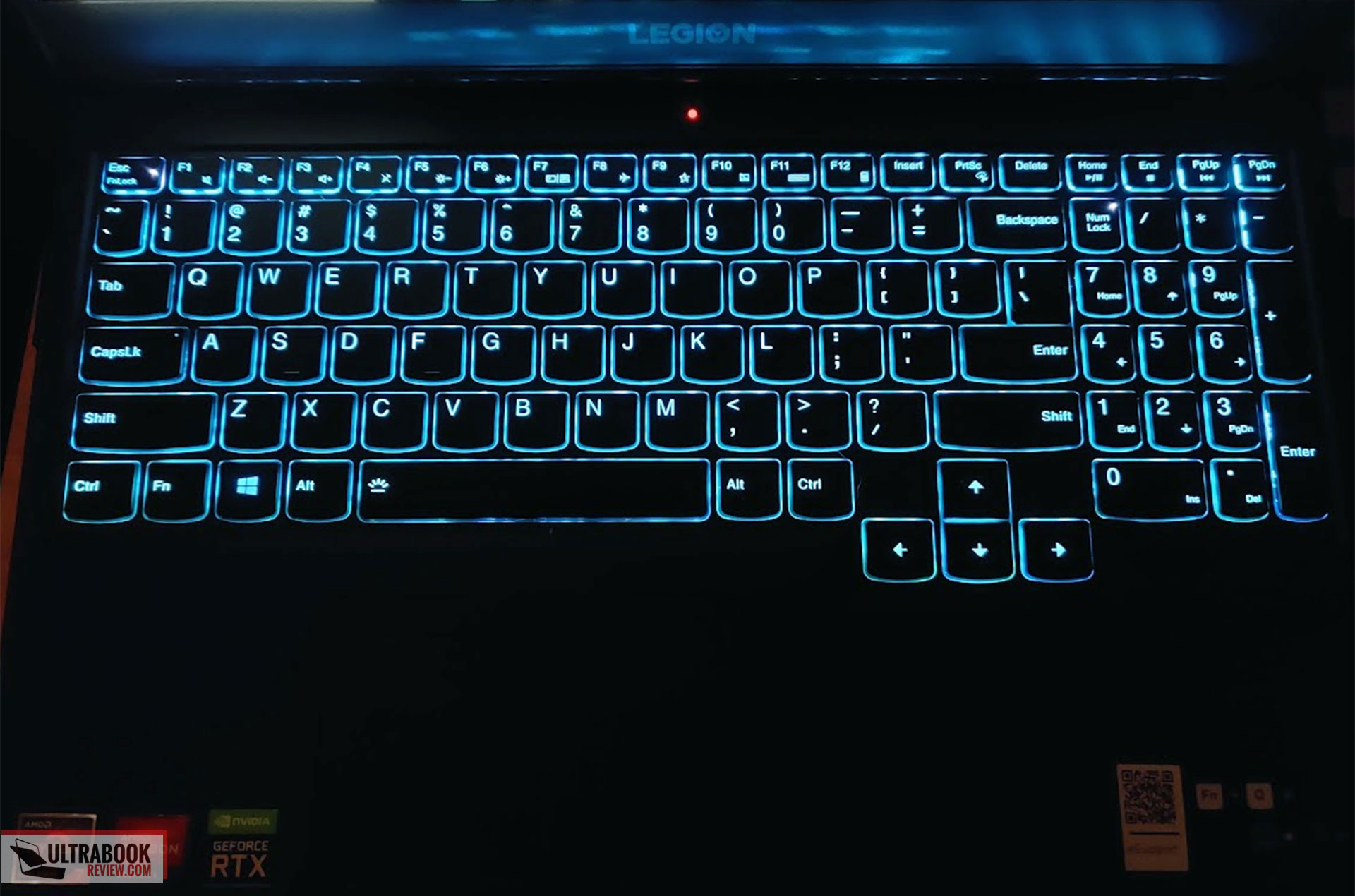 There's a decent selection of IO on this device. On the left side, there's a single USB-C port and a headphone/microphone combo jack. On the right-hand side is a USB-A slot and a physical switch that disconnects the microphone. I like that switch a lot by the way. There's also a small indicator light for the power.
The bulk of the IO is on the rear of the device. Here we have ethernet, another USB-C, 3x USB-A and an HDMI 2.1 port. By the way, both of these USB-C support DisplayPort 1.4, but only the rear one supports PowerDelivery charging.
The last thing to mention is Lenovo's standard proprietary power connection which is also on the back. This is probably my favorite power connection on any laptop available. It's easy to connect, robust and reversible. And the cord is out of the way, being in the back.
The aesthetic appeal ends when you look at the bottom cover. It's ok though – how often do you look at that anyway? At least it's functional, with decent-sized rubber feet and plenty of air intake holes. It's also a lot grippier than the rest of the plastic, which is great for carrying the unit around. More stickers on the bottom too.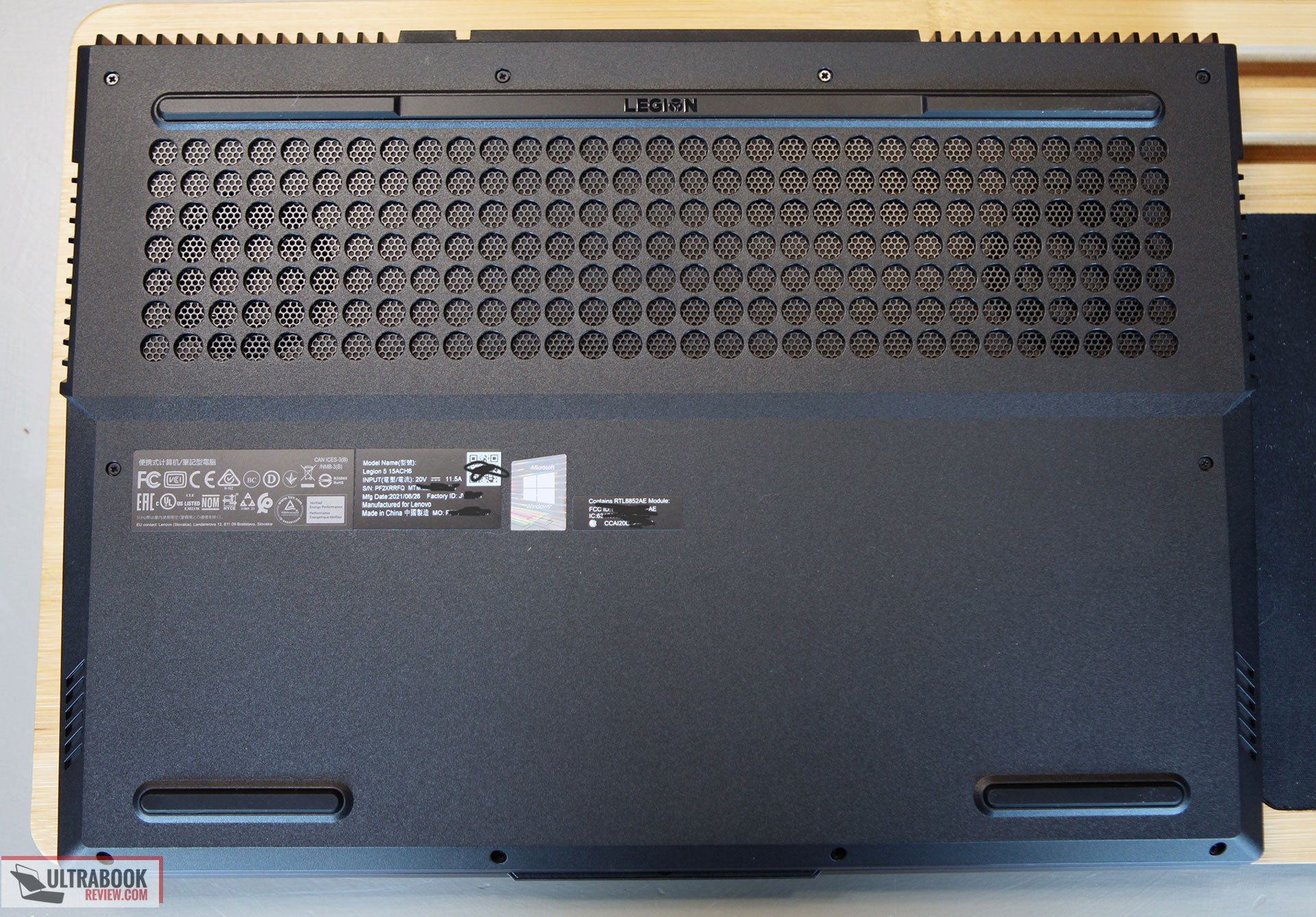 Overall, a nice design by Lenovo. Considering this is an entry-level gaming laptop, I think almost anyone would be satisfied with what Lenovo is offering here. Heck, I'm used to higher-end laptops, and I'd be fine with this.
Keyboard and trackpad
Let's talk about those input devices now and start with the keyboard. I was actually expecting the keyboard to be identical to the Legion 5 Pro I just got done with. Either it's exactly the same and I just got better at typing on it, or the key feedback is a little stronger on this model. Either way, I liked typing on it.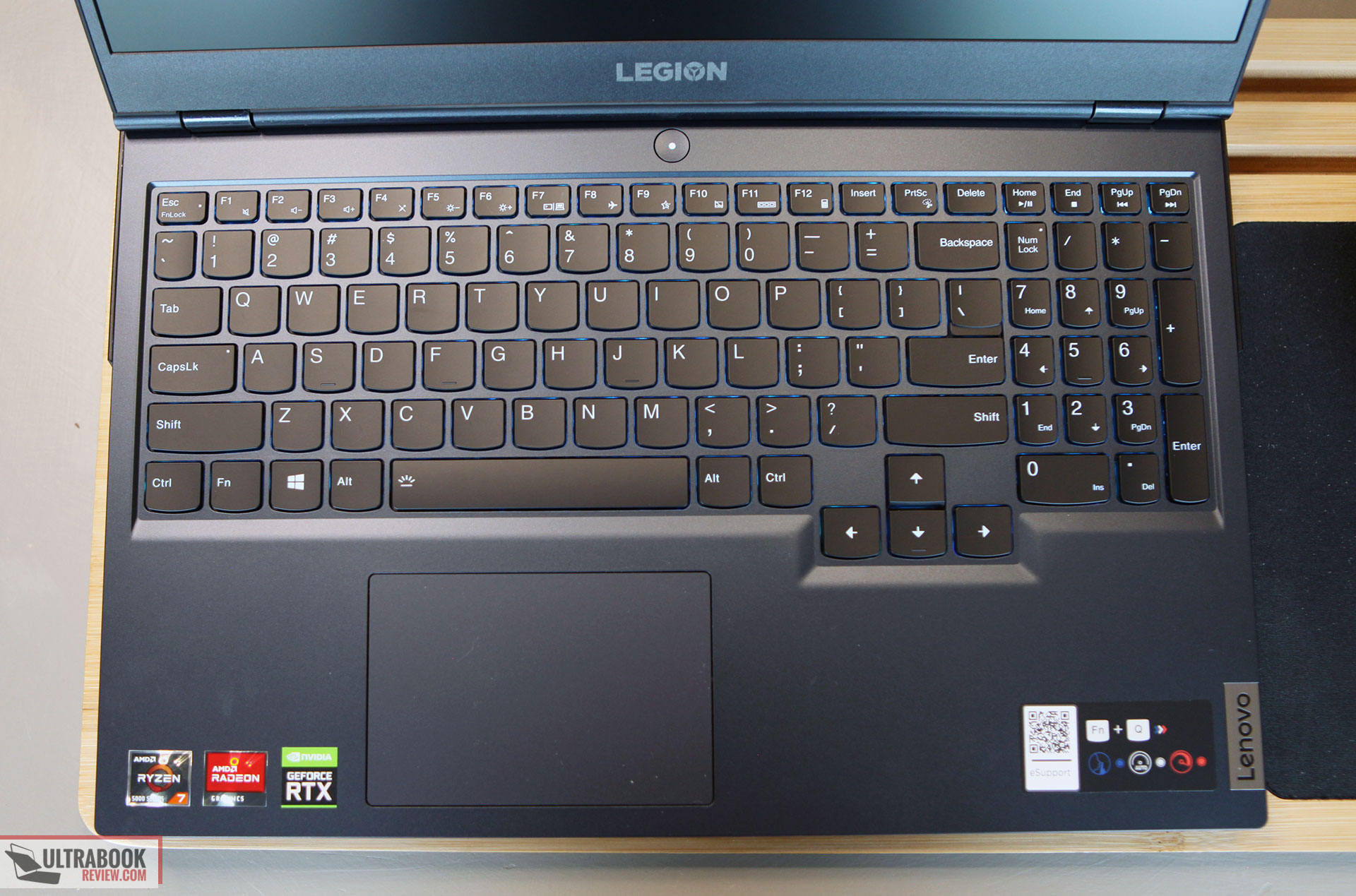 The key layout is pretty much the ideal layout if you ask me. There aren't any squished-looking keys or keys in weird spots, which is weird considering there's a Numpad and this is a 15" model with small bezels. But if you look closely, those Numpad keys are slightly smaller than the rest. I think it's a good compromise though, especially considering that the Numpad is probably underutilized enough to get used to.
What I really like about the layout is the way the arrow keys are separated from the bottom row, rather than jamming it in there and ruining the right shift key. Why doesn't everyone else do this?
The key feedback is adequate to me and the travel is good enough. I also enjoy how quiet the keystrokes are. The only key that makes significant noise is the spacebar, and it's not all that bad.
The keyboard is backlit with 4 zone RGB lighting. It's pretty much entry-level lighting too, with limited features and not the greatest software to change up things. It's good enough though, just expect a little light bleed underneath the keys. The color uniformity was better on this unit than it was on the Legion 5 Pro, which was interesting.
Now onto the trackpad, which is pretty decent. It's plastic, but on the smoother side where you might mistake it for glass. It's not though, and you'll know once you smudge it up a little.
Regardless, it works fine and tracks well. It's not the premium feel I prefer and it's not very large, but it's a step above some of the mediocre trackpads I've seen in other gaming laptops, particularly the Alienware models.
And yet again, I actually like this one better than the Legion 5 Pro. It feels less like plastic, but more importantly, it's smaller in width. Sounds dumb I know, but I was struggling with accidental palm touches because of the trackpad size on the Legion 5 Pro, and that just isn't the case with this one.
Screen
The FHD screen on this model is really good. It's 1920×1080 px in resolution, IPS, 165Hz with a matte finish. The viewing angles are solid and I detected no backlight bleed on my panel. There's very little to complain about, especially considering this is an entry-level gaming laptop.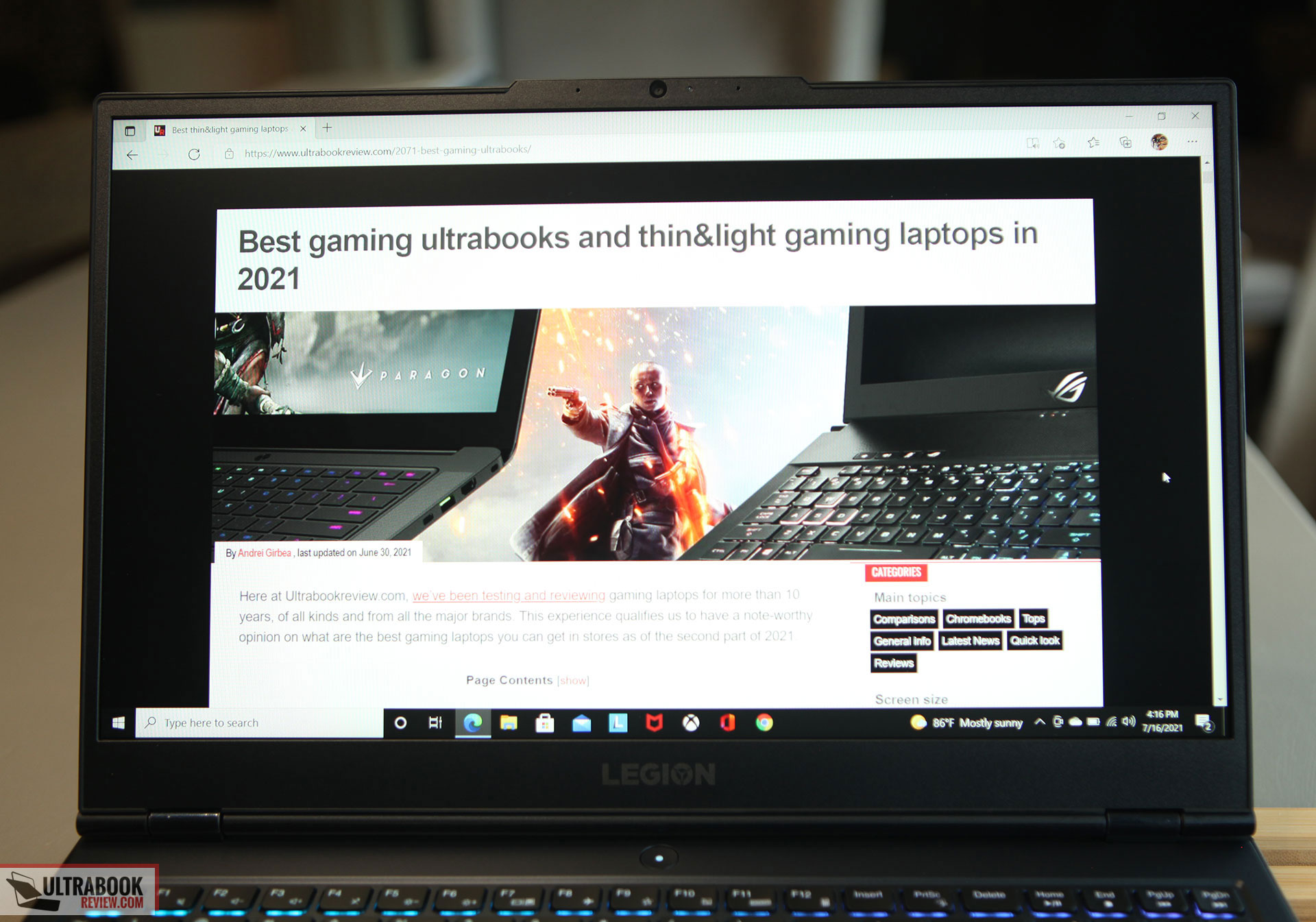 The panel is made by LG Phillips, model LGD06A5. It's a 100% sRGB panel, which is fine by me. I took some measurements on my X-rite i1 Display Pro sensor and here's what I got:
Panel HardwareID: LG LP156WFG-SPT2 (LGD06A5)
Coverage: 97.7% sRGB, 70.3% AdobeRGB, 73.3% DCI-P3;
Measured gamma: 2.2;
Max brightness in the middle of the screen: 347 cd/m2 on power;
Contrast at max brightness: 1197:1
Native white point: 6120 K;
Black on max brightness: 0.29 cd/m2.
Those results pretty much validate me saying there's nothing to complain about. The maximum brightness and contrast ratio are above average. The color accuracy was also very good. You could use this for color-sensitive work, assuming you don't need a wider gamut than 100% sRGB.
This panel uses Advance Optimus to switch between using the dedicated GPU and AMD graphics without having to restart the PC. You can switch this mode in Lenovo Vantage software by disabling the Hybrid mode.
But really though, unless you plan on never using this laptop on battery much, I would just leave Hybrid mode ticked. Adv Optimus worked really well and wasn't riddled with bugs as I've seen on other units.
Hardware and performance
My model has an AMD Ryzen 7 5800H processor. It's an octa-core processor which has a base clock of 3.2Ghz and boost at 4.4Ghz. If you're planning on using this for school or even professional use, this should be plenty of computing power for most tasks.
My model also comes with the Nvidia GeForce RTX 3050 Ti dedicated graphics chip. It's truly an entry-level dGPU and falls somewhere between the GTX 1660Ti and the RTX 3060. This card only has 4GB of VRAM, so it's limited on how many textures it can process. This also pretty much rules out Ray Tracing, even though it's technically an RTX GPU.
In the meantime, I've also reviewed the Legion 5 17-inch RTX model over here, as well as the mid-tier RTX 3060 version of the Legion 5 15-inch over here.
Paired with my hardware is 16GB of RAM. It's 2x8GB which is upgradable if you desired more. If you want to get the most out of this machine, you probably should consider it too.
Fact is, you shouldn't be fooled by the shiny 3200Mhz spec. Because it's single ranked (1RX16), the performance of the CPU is a little bit limited. As you'll see in a little bit, I was able to swap out the RAM for some old dual-rank RAM I had laying around and got improved results. Is it worth it? That's up to you.
For the SSD, there 's a 512GB PCIe 3.0 drive. The speeds are good, as you can see in my CrystalDisk benchmarks. The speed on battery isn't drastically different either.
Upgrading these components is pretty easy, provided you can get the back cover off. There are 10 Phillips screws that hold the cover in place, but it'll also take a plastic opening tool to disengage the plastic clips that secure it. Then it pops off.
Once inside, you get a good look at the internals. The SSD and Wifi modules are under the right heat shield. There's also another heat shield on the left that has a second M.2 slot underneath. Both these shields are secured by more screws.
There's also a third shield that's held in by clips, in the middle. This covers the ram modules. You'll have to carefully pull it upward while unclipping one of the clips. I really like how tidy the internals look, even though it really doesn't matter.
The Legion 5 is preinstalled with Lenovo Vantage as the master control software. This is used for a number of different things, but one of the uses is to adjust the CPU/GPU settings. The three available modes are Performance, Balanced and Quiet. You can also switch between these modes with Fn-Q. The power button even has a different color that tells you what mode you're in. Here's a table that shows what each mode does:
Quiet Balanced Performance CPU TDP PL1/PL2 GPU TGP CPU TDP PL1/PL2 GPU TGP CPU TDP PL1/PL2 GPU TGP 30/20W 60W 65/54W 60W 85/80W 60-85W
I did a number of synthetic benchmarks on this laptop. For my first run, I set Lenovo Vantage to Performance mode:
3DMark 13 – Fire Strike: 13606 (Graphics – 15070, Physics – 25313);
3DMark 13 – Time Spy: 6433 (Graphics – 6110, CPU – 9191);
3DMark 13 – CPU profile: max – 6503 16 – 6605, 8 – 5674, 4 – 3232, 2 – 1663, 1 -851
3DMark 13 – Port Royal (RTX) Graphics: 572;
Uniengine Superposition – 1080p Extreme: 3485;
Uniengine Superposition – 1080p Medium: 10541;
GeekBench 5: Single-Core: 1420, Multi-core: 7332;
CineBench R15: OpenGL 154.33 fps, CPU 2153 cb, CPU Single Core 226 cb;
CineBench R23: CPU 12808 pts, CPU Single Core 1396 pts;
And here's how this 2021 Legion 5 fares in the Cinebench R15 loop test on the Performance, Balanced and Quiet profiles.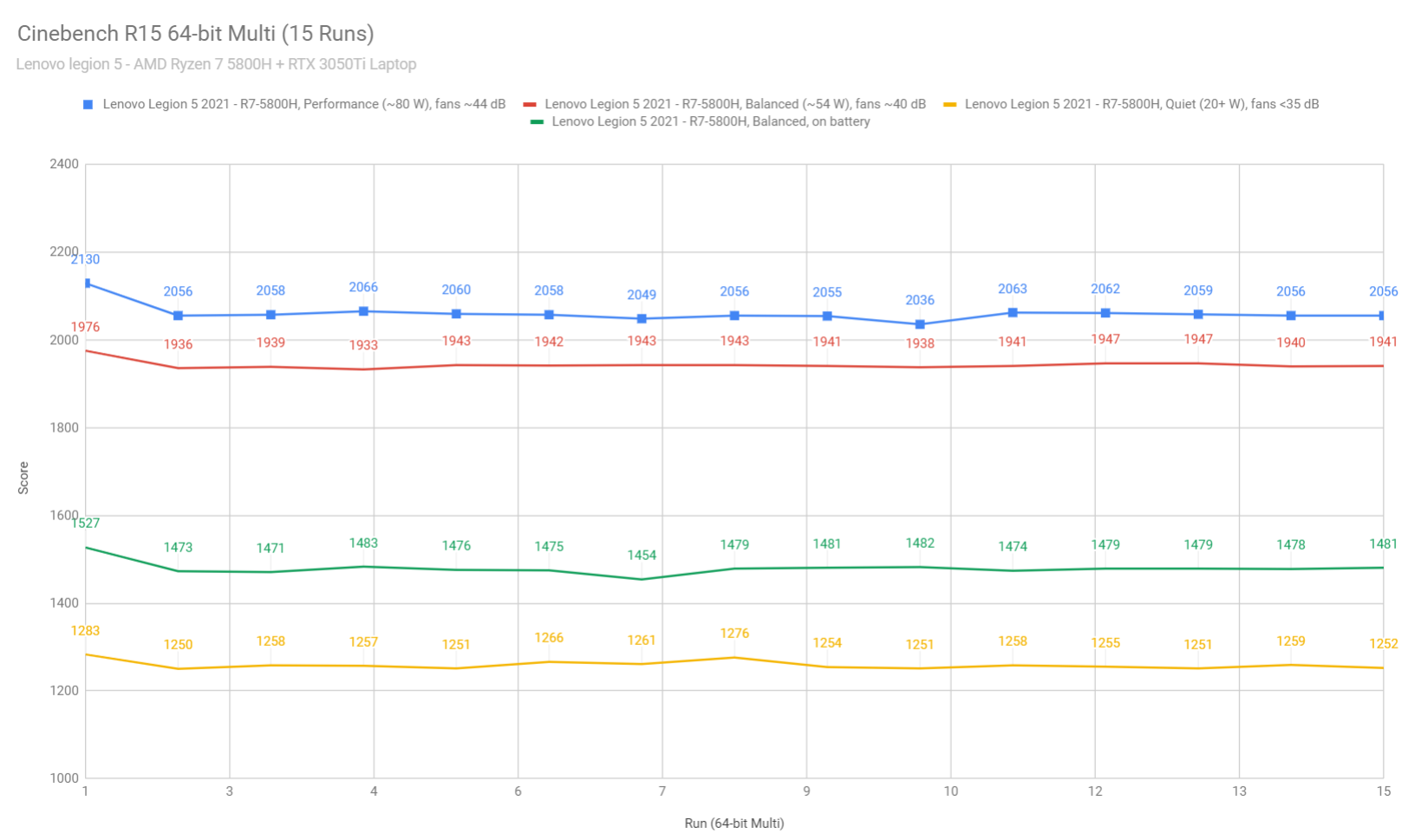 And how it compares against other laptops in its class from 2021 and the previous-gen Lenovo Legion 5 2020. Very competitive.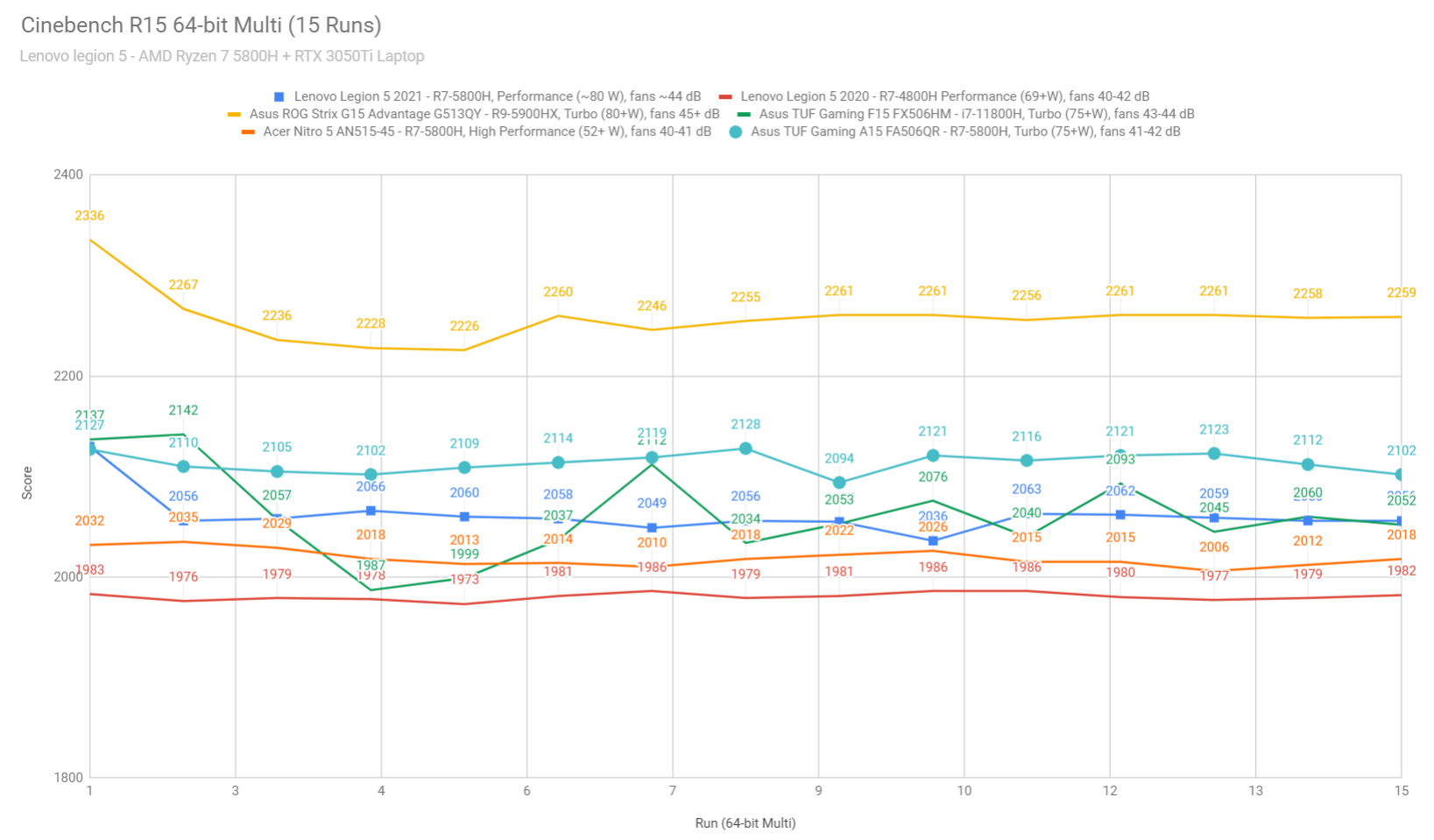 These are the results with Vantage set to Balanced:
3DMark 13 – Fire Strike: 12566 (Graphics – 13715, Physics – 24140);
3DMark 13 – Time Spy: 5741 (Graphics – 5420, CPU – 8656);
3DMark 13 – CPU profile: max – 6180, 16 – 6182, 8 – 5585, 4 – 3233, 2 – 1666, 1 -853
3DMark 13 – Port Royal (RTX) Graphics: 556;
Uniengine Superposition – 1080p Extreme: 3154;
Uniengine Superposition – 1080p Medium: 9745;
GeekBench 5: Single-Core: 1456, Multi-core: 7304;
CineBench R15: OpenGL 137.02 fps, CPU 1986 cb, CPU Single Core 225 cb;
CineBench R23: CPU 11685 pts, CPU Single Core 1400 pts;
And these are the results with Vantage set to Quiet mode:
3DMark 13 – Fire Strike: 9399 (Graphics – 13239, Physics – 7303);
3DMark 13 – Time Spy: 5664 (Graphics – 5411, CPU – 7710);
3DMark 13 – CPU profile: max – 3356, 16 – 3538, 8 – 2602, 4 – 1072, 2 – 438, 1 -255
3DMark 13 – Port Royal (RTX) Graphics: 568;
Uniengine Superposition – 1080p Extreme: 3147;
Uniengine Superposition – 1080p Medium: 8917;
GeekBench 5: Single-Core: 372, Multi-core: 3795;
CineBench R15: OpenGL 56.88 fps, CPU 1353 cb, CPU Single Core 142 cb;
CineBench R23: CPU 7751 pts, CPU Single Core 497 pts;
If you venture into the BIOS, you can set an OC for the GPU only. I set the OC to +100Mhz and then retook some benchmarks in Performance mode:
3DMark 13 – Fire Strike: 14065 (Graphics – 15589, Physics – 25320);
3DMark 13 – Time Spy: 6673 (Graphics – 6364, CPU – 9208);
3DMark 13 – Port Royal (RTX) Graphics: 569;
Uniengine Superposition – 1080p Extreme: 3612;
Uniengine Superposition – 1080p Medium: 10992;
Finally, here's how things change when I swapped out the RAM for my 32GB dual-rank RAM kit:
3DMark 13 – Fire Strike: 14109 (Graphics – 15668, Physics – 25316);
3DMark 13 – Time Spy: 6732 (Graphics – 6371, CPU – 9918);
3DMark 13 – CPU profile: max – 6611 16 – 6618, 8 – 5624, 4 – 3213, 2 – 1649, 1 -848
Uniengine Superposition – 1080p Extreme: 3620;
Uniengine Superposition – 1080p Medium: 10958;
GeekBench 5: Single-Core: 1423, Multi-core: 8368;
CineBench R15: OpenGL 143.62 fps, CPU 2137 cb, CPU Single Core 221 cb;
CineBench R23: CPU 12885 pts, CPU Single Core 1392 pts;
So excellent CPU performance for sure. The GPU isn't bad either. These results are about 15-20% slower than what you would get from a RTX 3060.
The overclock profile is nice to have baked into the BIOS too. I don't think there's a reason not to use it, to be honest. Temps are nowhere near alarming and Lenovo supports it in the BIOS, so the risk is low.
The upgraded RAM kit results were not as drastically different as I have seen in other units. But for games it makes a difference, depending on the title.
Here are some gaming results. These were all taken with the default RAM and with Vantage set to Performance + OC and again with Vantage on the Quiet mode. See below for my results:
FHD Performance w/ OC FHD Quiet Battlefield V (DX 12, Ultra Preset, Ray-Tracing OFF) 86 fps avg, 67 fps low 55 fps avg, 49 fps low The Witcher 3: Wild Hunt (DX 11, Ultra Preset, Hairworks On) 59 fps avg, 55 fps low 53 fps avg, 49 fps low The Witcher 3: Wild Hunt (DX 11, Ultra Preset, Hairworks Off) 70 fps avg, 67 fps low 63 fps avg, 54 fps low Horizon Zero Dawn (Ultra) 67 fps avg, 59 fps low 57 fps avg, 49 fps low Cyberpunk (High, Ray Tracing Off, DLSS off) 52 fps avg, 45 fps low 44 fps avg, 39 fps low Valheim (Max Settings) 52 fps avg, 47 fps low 22 fps avg, 12 fps low
I also did a single game test with a game that I know benefits from better RAM. The mode was set to Performance w/ OC. Horizon Zero dawn hit an average of 73fps and a low of 65fps in my same test. So roughly a 13% improvement.
But looking at the results in the stock system, these are decent framerates. It helps a lot that the screen is FHD. I don't think I would be saying the same thing is this were a QHD screen, like most higher end laptops have.
FHD at 15" isn't bad though. And if you're on a tight budget, this is pretty good performance on a nice looking screen that pairs well with the hardware. If this were my first gaming laptop, I certainly wouldn't be disappointed.
Noise, Heat, Connectivity, speakers, and others
The Lenovo Legion 5 uses a mixture of heatsinks, heat pipes, and fans for the cooling solution. Its similar to what was used on the Y560, which is a couple of generations old and is very similar to what I saw on the recent Legion 5 Pro.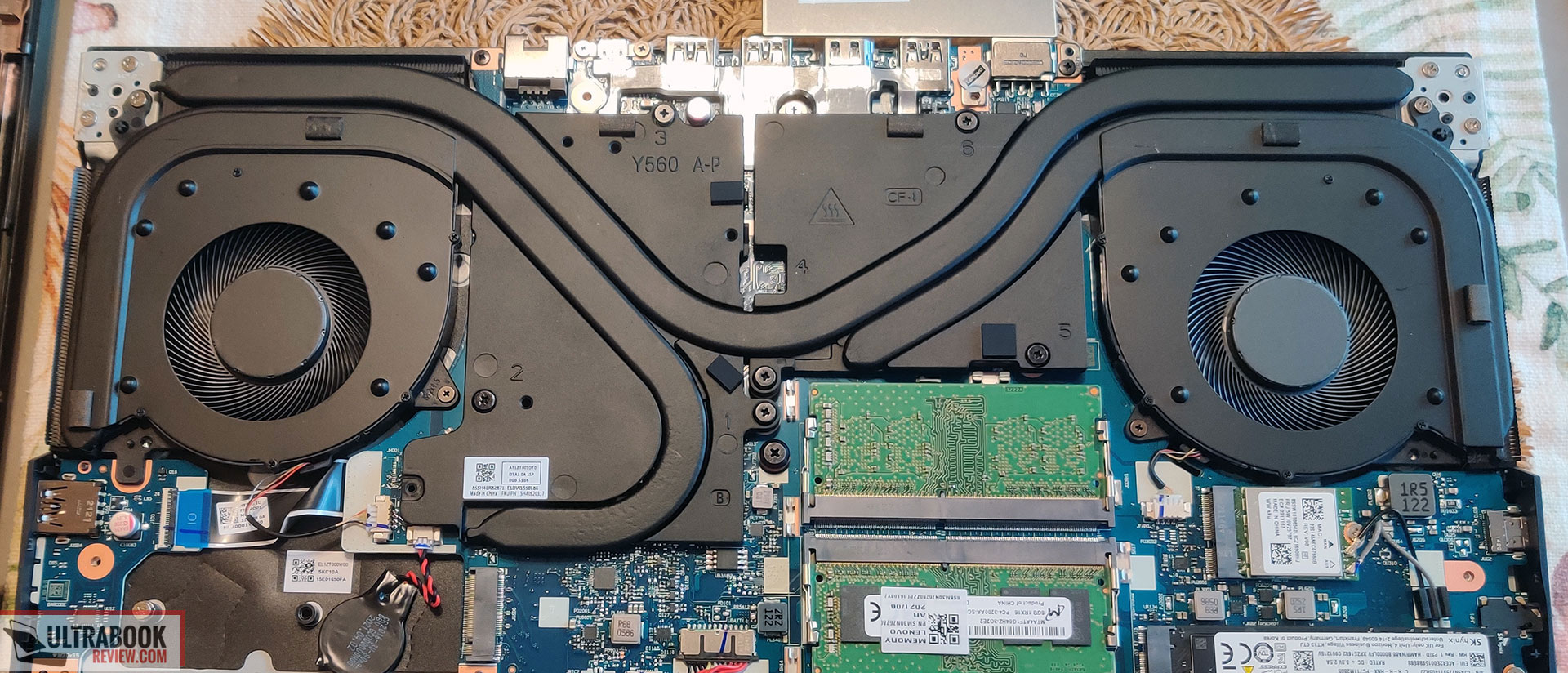 And it works just as well too. During normal use, CPU temps hover in the mid 40C area. The heat sink is big enough, so opening things like Chrome and doing light tasks only has a small effect on the CPU temps.
Fans are constantly operating at a very low speed, between 26-28dB. I hardly notice they are even on unless the room is completely silent. And that's one of the greats with this laptop – besides gaming fan speeds, this unit hardly makes any noise. Not even coil whine.
Once you start gaming, the thermals start to rise. During an extended session of Horizon Zero Dawn on Performance mode, my CPU averaged 80C and peaked at 90C. The GPU leveled out at 72C. All good results.
The fan noise wasn't that bad while gaming either. 44dB is pretty reasonable, especially considering the tone was a low whoosh, instead of the higher pitch whirl you hear on smaller fans.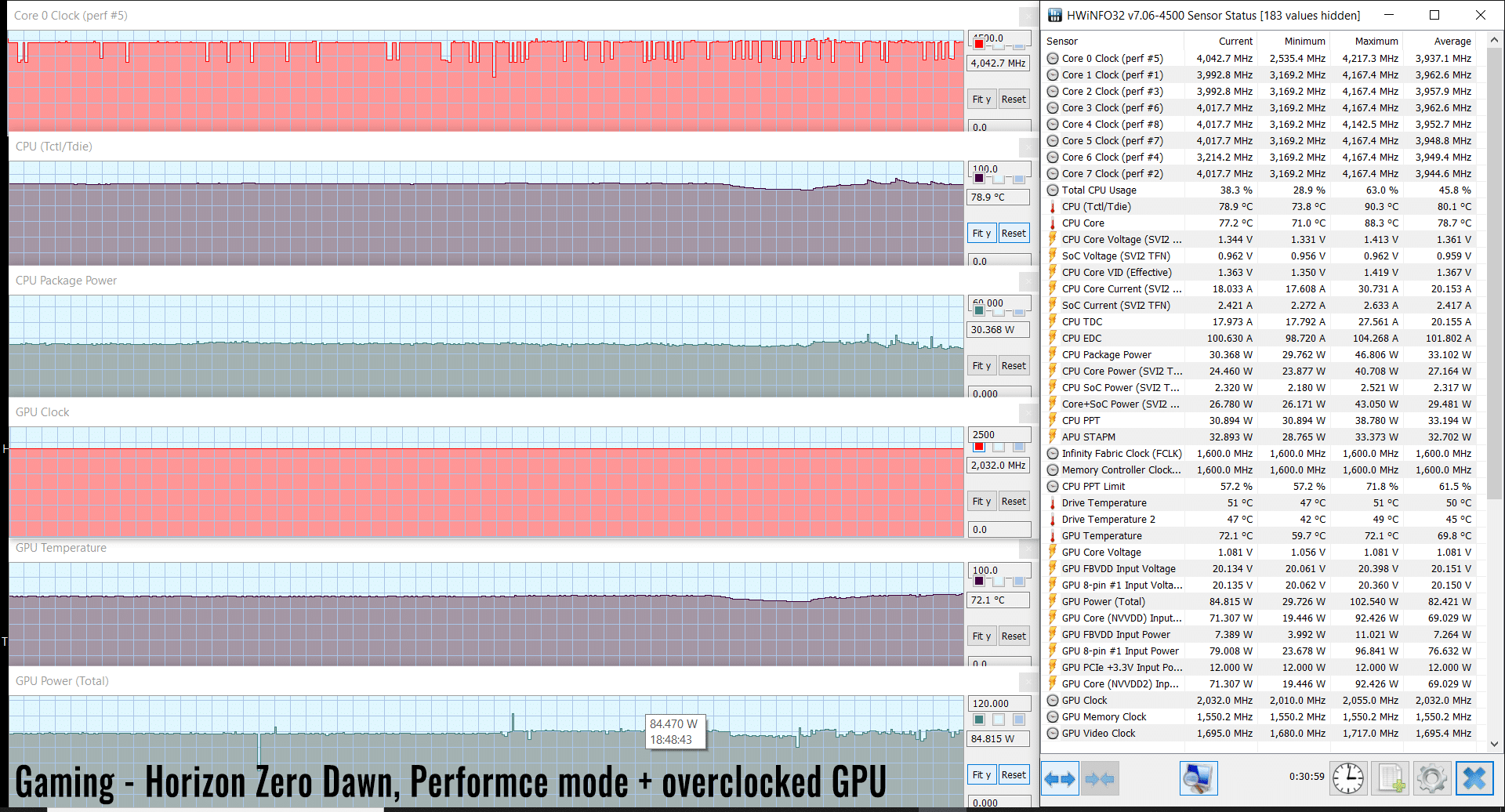 If the noise bothers you, you can switch to the Balanced mode, which will drop fan noise down slightly. But it's highly game-dependent since each will differ in CPU and GPU demands.
If you want to go even further though, try Quiet mode. It drops the TDP/TGP so low that the fans will level out at 35dB for most games. Your temps will also improve. The same Horizon Zero Dawn test resulted in CPU temps averaging 67C and the GPU 65C. Of course, this will affect performance drastically.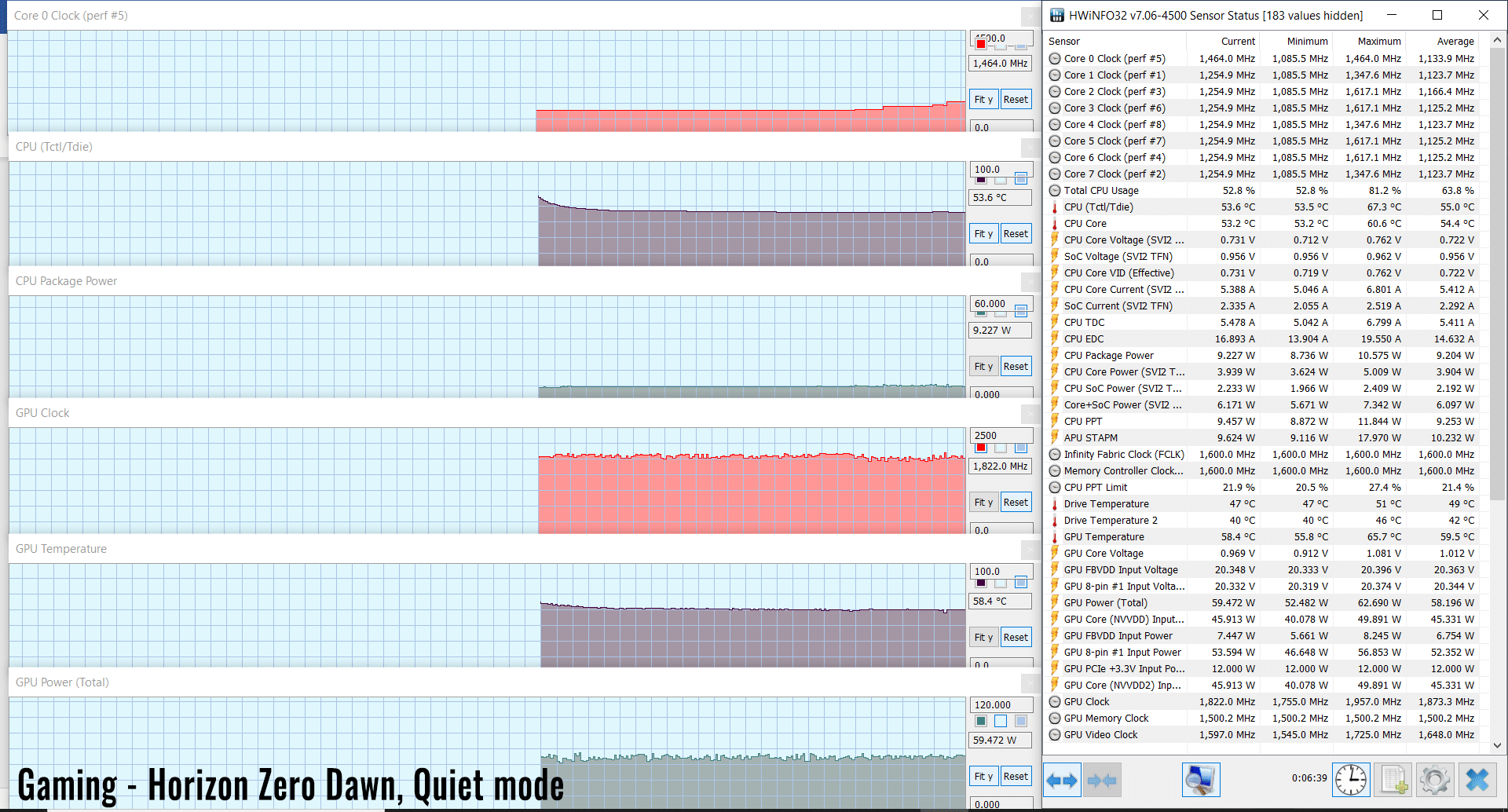 Onto the external temps. I measured the surface temps while watching a show on Netflix and multitasking while on battery, and another shot while playing Witcher 3 for an extended session. Here is what I captured:


*Daily Use – streaming Netflix in EDGE for 30 minutes, Quiet profile, fans at <30 dB dB *Gaming – Performance – playing Witcher 3 for 30 minutes, fans at ~44 dB
Not too bad. With the fans on higher speeds, it's impressive how well the palmrest stays cool while gaming. I was using a lapdesk for sure, but those underside temperatures weren't too bad either.
The temps for normal use were ok. A little warmer, but I attribute it to it being directly on my lap and the fact the fans are at such a low speed the entire time. No complaints from me though.
For Wifi, this unit uses a Realtech RTL8852ae module. It's Wifi 6 and also supports Bluetooth 5.2. I reached 470Mbps from a 30 ft distance from my router, which is just fine. I also didn't have any drops in connection while I was using it. Update: After a solid month of use, the Wifi modeule completely crapped out on us. It started with just a couple intermittent drops and eventually led to it being completely disabled in Device Manager. Cycling the power only helped for a few minutes, which leads me to believe that it's overheating or something. I bought an Intel AX210 module on Amazon and swapped it out. Everything is much better now.
The speakers are nothing to write home about. They are downward-facing, but the location and angle are in a spot where it's hard to cover them at least. So the sound isn't that muffled or anything.
But the loudness of the speakers is where things are a little lacking. Even with the Nahimic settings tweaked, I was only able to get 70dB peak volumes. And that's heavily reliant on the sound bouncing back up off of a surface. Otherwise, it's more like 65dB.
The sound has decent quality at least. The highs are fine and the mids are decent. They lack bass though, so don't expect to hear much of it. The bass drops off around 140Hz for me.
I'm saving the worst for last I guess. The camera isn't all that great on this unit either. It's HD, but the image is grainy, even with decent light. Low light shots are worse and lack color. I'm not impressed with this camera at all but it's there to use at least. No, it's not biometric either.
The only perk to this camera is the physical switch that completely disables it. I like this better than just a shutter because it turns the camera+mic completely off instead of just covering up the video.
Battery life
My unit has a 60Whr battery installed. I wish I could say this is the biggest they could squeeze in there, but there's a big empty space right next to it. At first, I thought this was space for a 2.5" drive, but there's no connection.
After a little more investigating, you can customize the model to have an 80Whr battery if you buy directly from Lenovo. Why would anyone want a smaller battery?
I took a series of battery life tests with the brightness at 70%, which is about 95 nits. Here were my results:
6.6 W (~9 h 5 min of use)– idle, Best Battery Mode, screen at 0%, Wi-Fi ON, backlighting off;
13.4 W (~4 h 29 min of use)– text editing in Word with light internet use, Better Battery Mode, screen at 70%, Wi-Fi ON;
9.1 W (~6 h 36 min of use)– 1440p 60Hz Youtube fullscreen in Chrome, Better Battery Mode, screen at 70%, Wi-Fi ON;
9.7 W (~6 h 11 min of use)– 1080p Netflix fullscreen video in Chrome, Better Battery Mode, screen at 70%, Wi-Fi ON;
15.3 W (~3 h 55 min of use)– heavy browsing in Chrome, Better Performance Mode, screen at 70%, Wi-Fi ON;
66.6 W (~0 h 54 min of use)– Gaming – Wither 3, Maximum Performance Mode, 60fps cap, screen at 70%, Wi-Fi ON.
Not great, but not bad either. I was able to use this laptop without a charger and I got a predictable amount of use out of it before having to recharge. But if you can get your hands on a model that has an 80Whr battery, I think it would be perfect.
UPDATE: I actually was able to get an 80Whr battery on eBay. Apparently these batteries are all shared across all Legion 5 models. I picked up one that's meant for the Legion 5 Pro and it works just fine. It was only $60 but prices will vary based on the seller. Regardless, it was easy to install, I was just short two screws so I made sure to screw down the corners and take my chances. Worth it if you ask me though.
The power brick is 230W and kind of an awkward shape. It fits fine in my backpack but it's a little too wide to fit into my typical bin that I put charging bricks. I could adapt I'm sure.
But you also get USB-C charging on this unit. So if you have a portable GaN charger, you can just attach it to the port on the back of the laptop. It's not going to power your GPU, but it'll give a small boost to your CPU and will keep you running.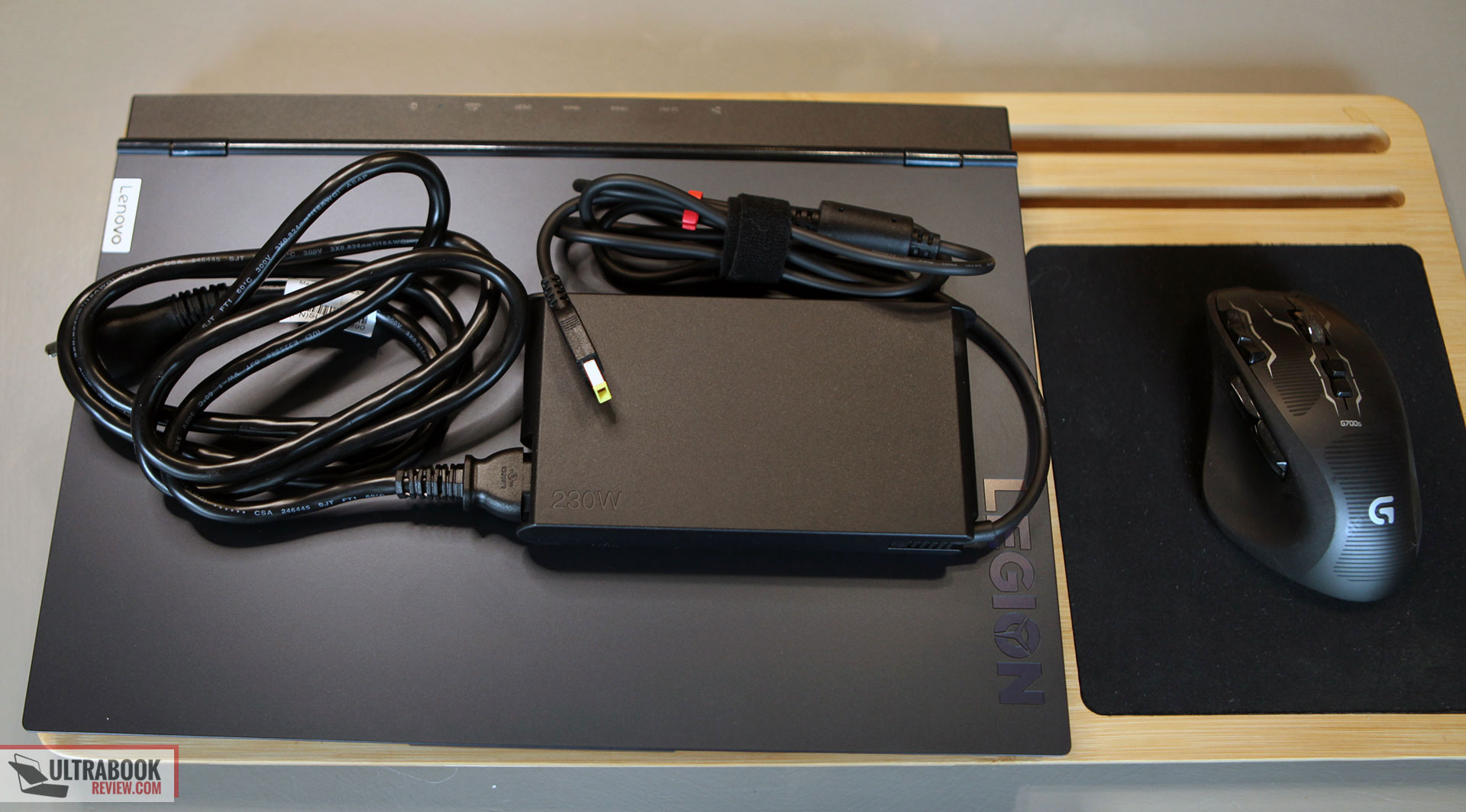 Price and availability- Lenovo Legion 5
The model I have was purchased from Amazon. At the time of this review, the price is $1050, but I was able to snag it on sale for $999. A good price if you ask me.
Follow this link for updated prices and configurations at the time you're reading this article.
You can also buy it directly from Lenovo, where you'll also be able to upgrade the battery if you wanted. But it'll cost you because the equivalent model on Lenovo's website is $1500. I'm sure they'll have coupons at some point, but jeez, what a difference in price…
You can also get a RTX 3060 model there or even an all AMD unit with a Radeon RX 6600M. Prices for those start at $1300, but increase significantly depending on your upgrade options.
The real value is in the unit I have though. $1050 is a great price considering the hardware that's in the unit. I'll have to find a way to source an 80Whr battery and this will be perfect.
Final thoughts- Lenovo Legion 5 review
Like I said at the beginning: this is a keeper for us. My wife needs a laptop with a powerful CPU and a decent GPU for the occasional content creating she does. And the screen needs to have decent color accuracy. This laptop checks all those boxes.
It also has some great other features too, with a fast and bright screen, a decent keyboard and trackpad, and some pretty good IO options. Two M.2 slots, good build quality, 180° lid… the list goes on and on.
Seriously, for a $1k laptop, this is excellent. I'll even accept that the webcam and speakers are not that great because sometimes those aren't even goon on higher-end laptops.
So would I recommend it? Yes – especially if you're on a tight budget or maybe you're thinking of trying a gaming laptop for the first time. This would definitely be a good option for that.
For more serious players, I would only caution you to look into other options first. Perhaps you'll want more with one of the QHD models and higher-end 3070/3080 laptops. But those are going to cost you at least double.
And that's really the thing. The value is really evident in this laptop. And if you can tolerate FHD gaming, this is a pretty good combo to choose. Or perhaps a 3060 model if you can locate one at a good price. We'll keep you posted if one pops up.
That wraps this review up though. I'll have this unit hopefully for the next several years, so if you have any questions about it or if you want me to run another test, please leave me a comment in the section below.
If interested, our reviews of the Lenovo Legion 5 Pro, the portable Legion Slim 7, and the AMD Legion 7 or Intel Legion 7 are also available here on the site.